Follow along with our adventures as we set out to convert a school bus into a beautiful,energy efficient home that runs off recycled vegetable oil. We then embark on a life long adventure, roaming the country, selling our handcrafted art and music as we go, meeting strange and wonderful people along the way. Crazy,naive,you ask ? Maybe,..maybe not..
Saturday, November 27, 2004
Wall showing where we built it up to partially cover some windows.The plastic acts as a vapor barrier.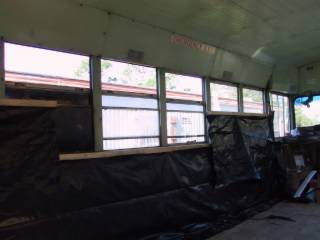 Posted by

Enchanted Gypsy ~ Tavel Diaries
at 8:13 AM